Hiawassee on track to accept water leak protection plan, water rates expected to increase
News
April 18, 2018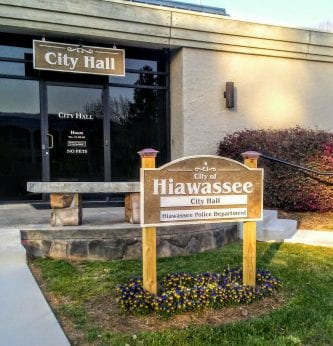 HIAWASSEE, Ga. – Hiawassee City Council convened for a special called meeting on the evening of April 12, 2018, to discuss the subject of ServLine, an insurance initiative that would cover customer water leaks within the city limits, in turn compensating the city of Hiawassee for related losses. Hiawassee City Council favored the policy in unified agreement, given an allowance for consumers to opt-out from protection should they choose to forego the plan.
The policy will provide coverage for water leaks that occur between the water meter and the foundation of homes and businesses. The cost of the insurance is $1.80 per month for residential coverage, and $2.50 per month for commercial protection. The city of Hiawassee has adjusted the cost of one water leakage mishap per year in the past, and the acceptance of the ServLine program will compensate similarly, for a single billing cycle, in the unfortunate event a loss occurs.
The city of Hiawassee says it will no longer absorb the cost once the ServLine insurance is offered to customers. Pamphlets will be inserted with water bills to notify consumers of the policy, along with a telephone number to call if opting out of the program is desired. Should consumers decide to forgo the service, however, a 30-day waiting period is required prior to re-enrollment in the plan.
Hiawassee Mayor Liz Ordiales stated that 4.3 million gallons of water have been lost due to leaks in 2018 alone, affecting 40 customers. Mayor Ordiales explained the majority of the leaks are the result of expanding frozen pipes occurring between the water meter and foundation of the structure.
In addition, a 3 percent annual expansion in water charges was explored. The last increase was implemented in 2013.
"Long-term, we are going to have to do a rate increase because we can't afford to pay our loans," Mayor Ordiales explained. Hiawassee City Council seemed to unanimously favor the rate elevation, although an official vote has yet to take place.